TRANSFORMING THE MIND, BODY AND SOUL ON A JOURNEY TO RADIENCE
AWARENESS AND SELF DISCOVERY
AURUM is the Latin word meaning "Gold" or "Shining Dawn". Pre-Colombian civilizations revered the Sun as a important deity and in ancient times the Sun was often thought to live in the Earth as Gold, which is the universal symbol for the highest purity and value, and is a much sought after element for alchemy, ceremony, and economy. Gold is the classical symbol of beauty, wealth, and power.
REFINED MASSAGE
TREATMENTS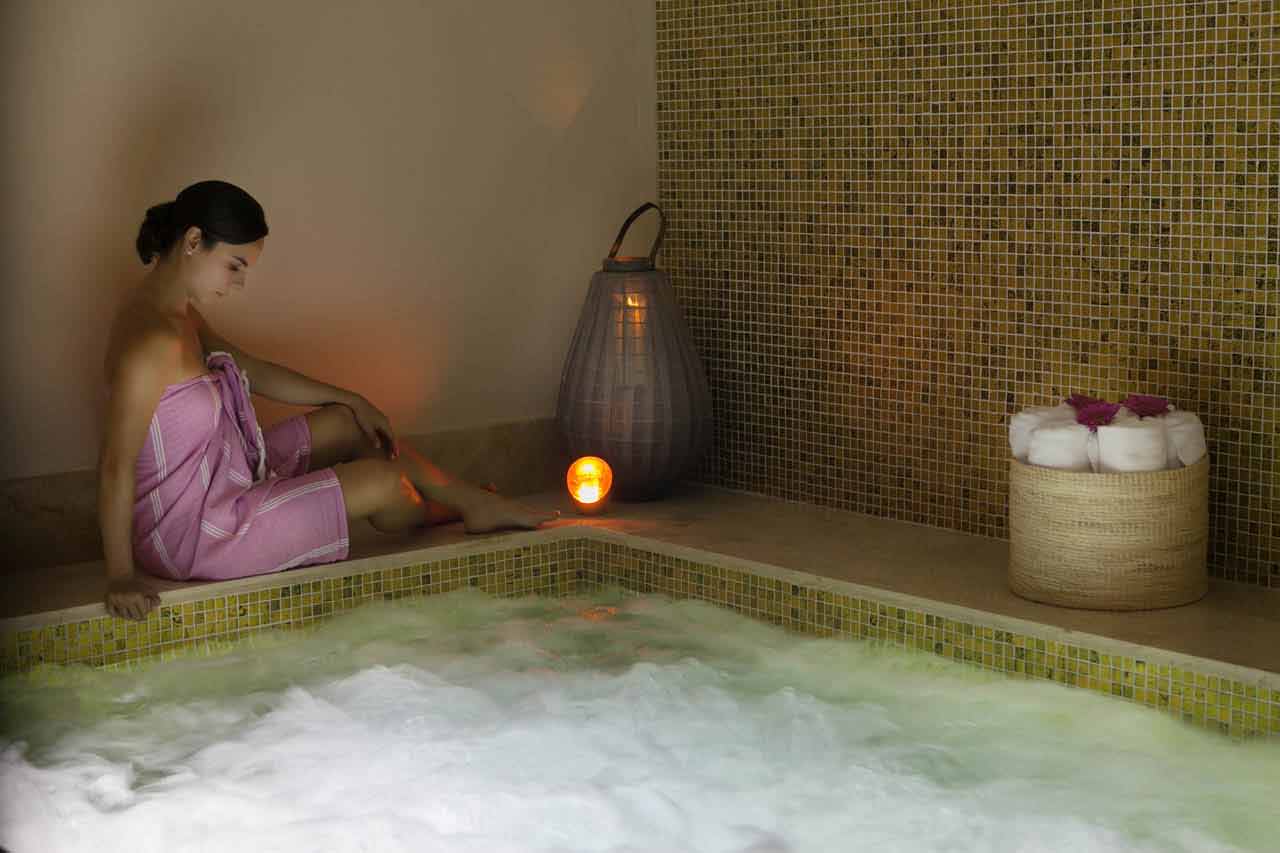 REVITALIZING BODY
ENHANCEMENTS
/ Spa
Gold often represents the sun, and the radiance and purity of gold allude to its healing and mystical properties, as well as its qualities of protection and harmony with nature. This Aurum Spa honors these qualities by promoting the awakening of the inner power and natural abundance inherently available to each person.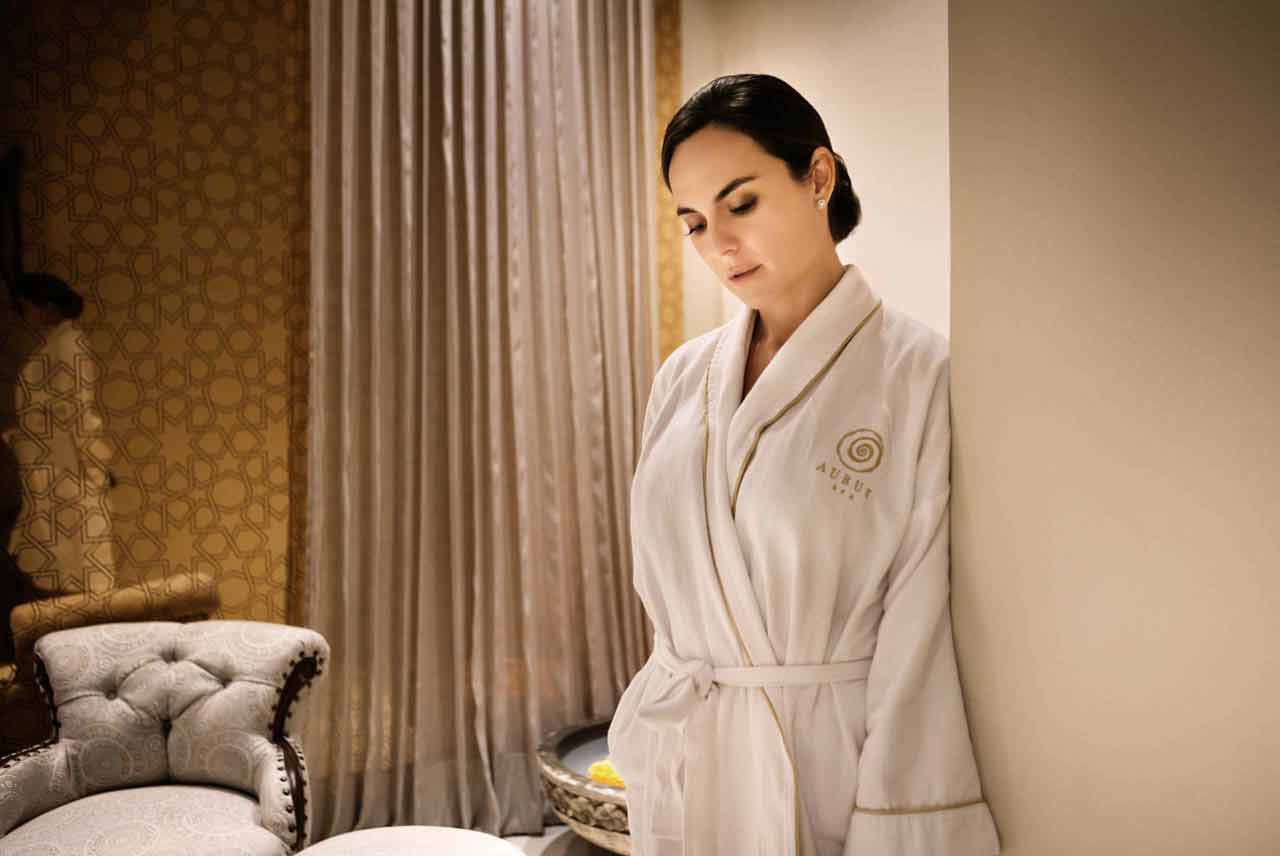 / Hammam
The Hammam ritual is a revered Moroccan Tradition, which even today is appreciated all over the world. The ritual takes place in a humid steam chamber where the body is rinsed and cleansed prior to a vigorous exfoliation with a scrub of Coffee, volcanic mud and pure tobacco which is thoroughly purifying for the body. The treatment can be performed by the therapist, administered between couples, or self-applied (without therapist). Ideal prior to any other treatment to prepare the body and skin for increased circulation, release of tension, and nourishment for the skin.
SPA OFFERS
BREAKFAST & SPA EXPERIENCE

Signature Spa Welcome Tea, Aurum breakfast at Alma restaurant from 9:45 a.m. to 10:45 a.m., 15 minutes of jacuzzi before starting the treatment, A 60-minute body massage at the spa menu selection between 11:00 a.m. and 12:00 p.m. Aurum gift.

LUXURY LOVE SPA EXPERIENCE

Welcome Spa Signature Tea, 20 minutes of jacuzzi before starting the champagne glass treatment, A body treatment in a duo cabin for two people for 60 minutes, Chocolate strawberries at the end of the treatment in the relaxation area, Aurum Gift.

DAY SPA EXPERIENCE

Welcome Spa Signature Tea, 30 minutes facial treatment, Time is Gold Ritual, Relaxing experience in the jacuzzi for 20 minutes, Light lunch selected from the Spa menu at the Alma restaurant, Cup of cut fruits in the relaxation area.
More information and reservations:
aurumspa@hotelcasasanagustin.com - (5) 681 0075
AURUM RITUALS
THE TIME IS GOLD

Ritual to reconnect, restore and fully relax. It begins with a body scrub in Hammam, followed by a soft wrapping of gold to nourish the skin and to end with a relaxing body and facial massage.

TREASURES OF THE SEA

This is a restorative and detoxifying ritual base don the rich ingredients from the sea. It begins with a body scrub in the steam room, followed by a seaweed wrapping, a facial moisturizing and relaxing body massage with sea ingredients to créate a feeling of happiness and harmony.

PASSION FOR LIFE

>This romantic experience offers a chance to spend time quality together and celebrate your relationship. Begin this experience in the jacuzzi and enjoying a delicious drink, followed a lemongrass and Mimosa body scrub, after that you will be wrapped in a nourishing cocoon and finally a relaxing body massage with a delicious wild lime that revitalizes the body and mind.

HAMMAM

The Hammam ritual is a revered moroccan tradition, wich even today is appreciated all over the world. It takes place in a humid steam chamber where a body scrub is performed, followed by a deep purification and a relaxing body massage.

TWO HEARTS AND ONE SOUL

Indian luxurious massage that is performed with four hands and combines different techniques with music and aromatherapy that will provide a unique sensation of relaxation.

GOLDEN FRIENDSHIP

Enjoy a wonderful day with your friends where you will share a special beauty ritual that includes hammam, jacuzzi, relaxing body massage and a mini facial. (Maximun 4 people).
CARTAGENA COFFEE BODY SCRUB

Enjoy this exquisite exfoliation that combines the sweet notes of coffee with the pumice volcanic and mud that form a perfect blend to detoxify and repair the skin.

LEMONGRASS AND MIMOSA BODY SCRUB

This refreshing body scrub that blends tne mimosa and bamboo extracts with the notes of lemongrass make the skin looks soft and shiny.

ROSEMARY CITRON BODY SCRUB

This invigorating scrub where the sea salts are blended with spicy Rosemary and Citrus essential oils to stimulate circualtion and leave the skin smooth and polished.

RELAXING HERBAL MASSAGE

A relaxing body massage featuring a selection of personalized oils designed to provide specific benefits and relieve the muscle tensión and fatigue.

PURE GOLD

Exclusive body relaxation massage where the essence of gold is evoked by the shiny and golden emulsion that bathes the body to nourish and leave the skin soft.

DEEP TISSUE

A therapeutic massage focused on realigning the deeper layers of muscle tissue and offering relief for tensión and stress.

JET LAG

After a long trip there is nothing better than a complete massage from head to toes, accompanied by lymphatic drainage techniques to eliminate the accumulation of toxins and relieve fatigue and stress.

LOMI LOMI

Ancestral massage that has its origins in the ancient healing arts of Hawaiian healers, is characterized by a rhythmic wave of successive movements with the hands and forearms allowing a deep relaxation of mind and body.

REFLEXOLOGY

Therapeutic massage of hands and feet, places where there are specific points that represent each part of the body and to help ease, calm and relax. It also helps to eliminate toxins and activates the blood flow.

MANICURE AND PEDICURE

A highly repairing manicure and pedicure that will smooth, nourish and protect the skin. Nail and cuticle care follow.

HOT STONES

Millenary geothermal technique that combines volcanic stones with essential oils to flow the vital energy that will take you to a deep relaxation and well-being and a balance of the body.

GOLDEN AGE

This luxurious facial delivers instant skin rejuvenation by accelerating cellular respiration and taking care of the skin.

MOISTURE FROM THE SEA

This hydrating and re-balancing facial immediately replenishes the skin with deeply hydrating botanical blends.

PURE RESULTS

Experience spectacular results with this skin conditioning treatment to address inflammation, the main cause of premature aging.